Capital One Financial recently announced a hybrid back-to-work program for employees beginning in the fall of 2021.  Essentially, the firm is embracing remote work two days per week and requiring employees to be in the office three days.  This is the firm's effort to get employees back to the office.  While this has been laid out as their initial program, leadership acknowledges that remote working will be part of the company's culture in the future.
Prior to the pandemic, Capital One had conceived of and was in the process of building its headquarters campus in Tyson's Corner, Virginia.  This work continues.  The campus is an East Coast financial services version of the Google or Apple headquarters, containing six million square feet of mixed-use development.  In addition to office space for employees, the office buildings contain multiple amenity areas, gymnasiums, conference center and break-out spaces. Below is a rendering of the employee food court which features multiple restaurant offerings.  In addition, the campus includes an extended stay Watermark Hotel, Capital One Hall (a performing arts and conferencing center), a 1.2 acre skypark, Wegman's grocery and other retail and restaurant outlets.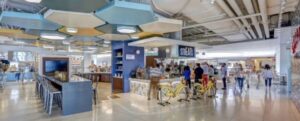 This Campus was designed to promote collaboration, innovation, group problem solving, onboarding, training, networking and social interaction.  Prior to the pandemic this project was a prime example of the workplace of the future.  In the post-pandemic world, we now see that these design goals are also amongst the most difficult to successfully achieve in a virtual environment.
Obviously, the elements of this design anticipate employees being on campus with expanded food, exercise and entertainment venues which cannot be accessed from home, yet Capital One also recognizes the desire of many of their employees for greater flexibility and thus the hybrid plan.  What is most interesting about this announcement is that it is the "initial" back-to-work plan.  Capital One has invested hundreds of millions of dollars in this campus concept with high conviction that this is the future for highly productive companies and getting employees back to the office is an important first step and key supporting element of this concept.
While much has been written about the office of the future, it is still too early to know what the future of work looks like.  Until employees get back to the office, students get back to school full time and various hybrid models are explored, we really won't know.  Our observation is that it won't happen quickly.  One way to consider this issue is in three phases: Phase 1—Pandemic phase; Phase 2—Back to work hybrid phase; and Phase 3—Stabilized office of the future.  We are just beginning Phase 2, and this phase may last for a while.
So, what are the residual effects of the pandemic on office space demand in our local market as we enter Phase 2?  In the first half of the year, the DC metro office market experienced a surge of gross leasing activity as Phase 2 approached, but with slight negative absorption.  The market appears to be treading water, waiting to see what Phase 2 looks like.  On the one hand, some companies are growing and need space to accommodate safer social distancing measures for their employees, while others are shedding space in anticipation of the expanded work-from-home model.
However, as back to work evolves, we are seeing at the same time an increase in economic activity which is driving demand for apartments, for-sale housing, e-commerce logistics and will ultimately have a positive impact on office space demand.  Median housing prices in Arlington, where Amazon HQ2 is located, have increased by 52% over the last 5 years (according to Costar); 12-month apartment absorption in the region has been 8,331 units, almost 30% above the annual historical average of 6,500 units, and regional industrial rents have grown an average of 5% year-over-year since 2017.
"…the region is experiencing a 30.2% increase in job postings since the onset of COVID-19, which is second to only Seattle among the gateway markets. Meanwhile, two of the region's major tenant bases, government contracting and government affairs, are experiencing record highs in spending in terms of government contract awards and lobbying spend, respectively."
 JLL Multi-housing Outlook – Q2 2021
Other businesses and services also expanding rapidly in the Washington region include cloud computing, cybersecurity, and life sciences.  We are seeing the benefits of this economic surge across product types and believe that this rebound from the pandemic is cause for optimism, regardless of where people work.  As the workforce enters Phase 2, we must also acknowledge that these are unprecedented times and remain vigilant for the opportunities that will emerge.